Running a startup is grueling. You're probably running one now, that's why you found this.
It's fast paced, you're expected to perform or tweak your product, yet, you still need planning and grinding out the work.
Sometimes, it gets really overwhelming. Especially when it comes to what features or improvements you'll need to be working on next.
At the beginning phase of your startup, you will probably trust your gut and just get as much information as possible from your users.
As I mentioned before in a previous article, you need to be able to filter out the unneeded feedback as that will only slow you down.
For those features or improvements that do make sense, I run them through my APAR process and that's what I'll be talking about in this post.
At the end of this article, I expect you to have an idea of how you can operate your product improvement cycle.
The earlier you get started, the better it is for you and the less pressure your gut has.

Product Improvement Cycle
As always, we start by compiling things into a list.
Urgent ones (such as critical bugs or a minor tweak that will significantly improve experience) will be accelerated and will be applied earlier, so they will not be left on the list.
In the office, we use Trello. You might be using something else and it's fine. Use pen and paper if you want.
Step 1. Compile all the features/improvements you need to make in one list.
Step 2. From there, select priorities on which you want to do first.
Step 3. Grab a feature and run it through this product improvement cycle.
Analysis -> Planning -> Action -> Reporting (APAR)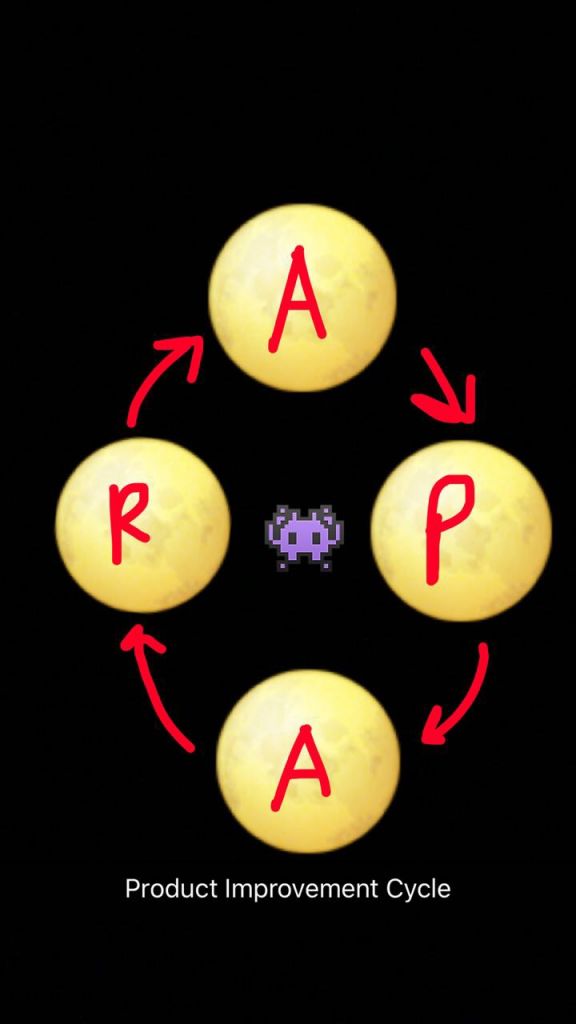 There are only 4 phases.
Each phase is important, so there's no need to skip any of them.
Analysis
In this phase, you need to gather as much information as possible. You have to analyze the data you have or the feedback you got.
If by some chance that stats aren't available or no users are available, stick with the basic questions.
Will this feature really help to gain more traction? Will this feature give us usage from new signups? Is there great potential for future integrations?
Lastly, come up with a trackable goal that you want to achieve after building this.
Planning
Once you have that ironed out, you need to start planning. Map out how it works with the rest of your product and it's features. Enumerate what future integrations will work with it or how you can release it in "phases" instead of just one big release.
Get your design team to start on the UI.
This is an important step that a lot of people neglect. You can never underestimate a great user experience due to great UI work. In many cases, your success depends on it.
Action
This is the time for grinding. Explain this to your dev team and project manager. Be sure the design team can clearly explain it. Grind out the work and release the new feature.
By the way, once you release it, you better tell your users about it. Don't just let them find it. Chances are, they won't.
Reporting
Now that is has been out for a while, it's time for you to check your usage.
Depending on the nature of your business, it can just be 1 goal.
For some other businesses, you might want to ask other basic questions such as: Is the feature performing as expected? Are people really using it? Is it being used the way it's intended to be used? Did the new feature convert inactive users to active users? How many of the inactive users actually used it?
Tracking your results can often be neglected. I'm guilty of this as well. Sometimes, there are things that just take up most of your time. The earlier you realize it, the better.
Your role is to make sure that you know that what you are adding to the product is actually performing. It's also your role to let the team know about it. It's a big deal to them to actually see results from their work.
After that, then it's:
Start another cycle to improve it further (possibly with a new goal or the same goal compared to the previous duration)
Drop it completely (failed experiment)
Continue to track but leave it alone (It reached the goal and there's no next step or it might need more time for testing)
No Feature is Complete, Unless You Can Track It
When you are in the trenches, it's really easy for you to lose track. It's easy to just keep churning out feature after feature but never really truly knowing how it has helped.
I'm guilty of this. It took me a while to realize this.
Since you are reading this now, then I hope you can make use of this knowledge. You'll save precious time by starting early and not making the same mistakes I did.
We've recently adopted a mindset of: no feature is truly COMPLETE unless you can fully track it.
You can reach a point where you have so much data and you won't know what to do with them.
That is why the process I showed you above will help you keep those analytics data in check.
Track analytics wisely and you'll gain real, actionable insights that you can put to good use.
—
Your Action Steps
The APAR (Analysis -> Planning -> Action -> Reporting) product improvement cycle is a simple process. You just need to keep doing it.
As your startup grows, you'll see that you'll have more and more backlogs and features to churn out. It's easy to get lost, so establishing a process early, will help you significantly in the long run.
Make sure your team understands this as well. If they don't drill it into their brains.
Here's what I need you to do after reading this.
Go through your feedback/upcoming features list
Get the next one that you'll be working on
Run it through the APAR product improvement cycle
Don't forget about your 1 measurable GOAL
Launch it and track it's performance
Snap me and tell me about how great it went!